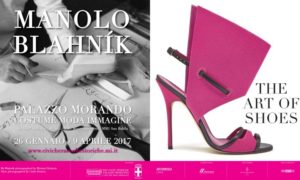 Two years of preparatory work were necessary to set this retrospective of 45 years of activity of Manolo Blahnik, "the sculptor of the shoes" – according to The New York Times. It  intended to illustrate the complex world of one of the most important names of contemporary fashion. His creations, unique in the world, have become cult object, defined "magical totems of success and femininity" chosen by woman with strong personalities as Bianca Jagger, Paloma Picasso, Marisa Brenson, Loulou de la Falaise.
Over 200 shoes and 80 original drawings are exposed in the halls covered with paintings and frescoes of Palazzo Morando a beautiful eighteenth century mansion. In this scenic location, memorable shoes, each of which has a name, are divided into several rooms consisting of 6 sections.
In the first, Core, are exposed pieces inspired by the myths of Blahnik, such as Alexander the Great or Brigitte Bardot; in the second, Materials, the focus is on details and fabrics with brocade satin, taffeta, and cashmere shoes.
The third room is a tribute to architecture, with sculptured heels while the fourth, Gala, offers a selection of the most bizarre shoes created over the years. The fifth is dedicated to nature and botanical creations, with interwoven vines and floral sandals. All started from there, when Diana Vreeland noticed an ankle wrapped in ivy and cherries among the sketches of some scenic designs and, charmed, she strongly advised him to devote himself only to designing shoes.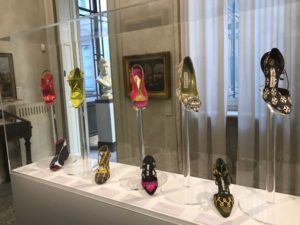 The final section shows all the models that are affected by geographical and environmental influences due to travels in Africa, Russia, Japan, Spain, England, and in London, where Blahnik lives. Profound is also the influence that Italian art and culture have had and still have on the style of Manolo: the greek-roman sculpture, the Baroque, The Leopard the masterpiece by Luchino Visconti or corals from Sicily. In fact is not by chance that Milan has been chosen for the opening of this exhibition not to mention that the Manolo Blahnik shoes are all made by Italian craftsmen in a village near Milan.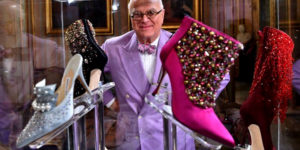 In addition to Blahnik shoes, the exhibition presents in parallel a small selection of ancient footwear from collections of the Civiche Raccolte Storiche: past and future coexist enhancing each other, in a magical interchange.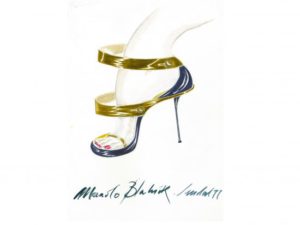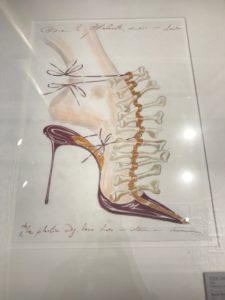 Not to miss visiting the exhibition are the sketches of Blahnik: from the first shoe designed in 1971, to the latest eccentric creations born in collaboration with the pop star Rihanna. And then the selection of 22 French silk shoes created exclusively in 2006 for the Sofia Coppola film Marie Antoinette.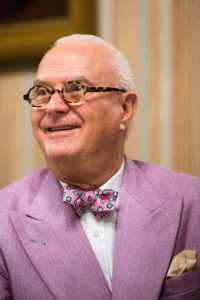 After Milan, the exhibit will move to Hermitage in St. Petersburg, then to Prague and Madrid and  in 2018 in Canada.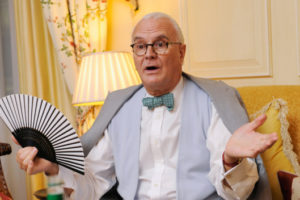 The exhibition is accompanied by a catalog which contains an alphabetical chronicle conversations between Manolo and curator Cristina Carrillo De Albornoz including highly personal anecdotes. A guide through creativity, influences, (such as the inspiration he draws from works by Goya, Zurbaran, Picasso, Barbara Hepworth, and Zaha Hadid and his admiration for fellow designers such as Azzedine Alaia, Balenciaga and Yves Saint Laurent), the passions and  life of the designer, a fashion legend. Download here the pdf format Catalogue in italian
Manolo Blahnik. The Art of Shoes
Palazzo Morando | Costume Moda Immagine
Via Sant'Andrea 6
26 gennaio – 9 aprile 2017
Tuesday-Friday  9am-1pm and 2pm-5.30pm
Saturday and Sunday from 9am to 8.30pm
Closed on Monday