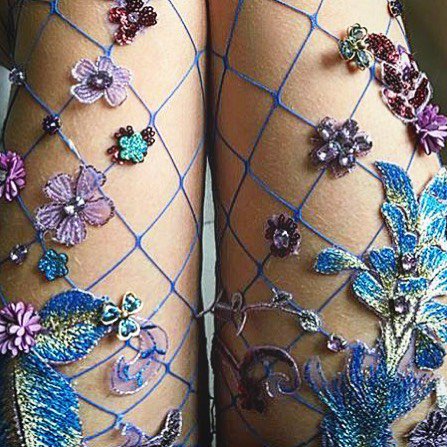 Lirika Matoshi is a young artist – only 20 years old – of Kosovar origins based in New York, who produces jeweled stockings, real small artistic masterpieces.
The idea for the fishnet tights came to her only few months ago:
"I had some fishnets in my closet, and then I just tried them out, put flowers on them, and took a picture of them," she says. "I didn't expect to sell them, I just made them for fun. A lot of people on Instagram really wanted them, and they asked me if I could sell them."
In fact, the Instagram people were immediately crazy about her enchanting creations, increasing the number of fans up to 92k in no time.
Lirika Matoshi takes inspiration from nature:
 "Flowers, plants and wildlife have always fascinated me for their harmoniously combined shapes and colors. I try to translate the natural textures into decorations and fashion applications"
Here are then various types of flowers, greenery, insects, trim, colorful fabric flowers, crystals, sequins, pearl and gems take place along the fishnet stockings creating enchanting worlds, detailed, unique and unexpected fashion pieces.
"The making process takes a lot of time and effort and detailed work. We (she and her family ndr) are providing the highest quality of tights, everything is handmade, and each single flower that is attached in the tights is made by hand. I created a worldwide trend, and most importantly, I came up with a really unique idea of using a certain machine that attaches all these details on the tights, which is our secret recipe," she explains.
Each pair takes up to two hours to make in her Bronx Studio: "The prices are highly reasonable for what we do!" On sale on her Etsy Shop the fishnet stocking retail  from $150 to $350 for the most detailed and enriched.
Elle King, Dua Lipa, Nicki Minaj and Rita Ora are all fans of her stockings: she is currently working on a collaboration with Converse on embellished shoes, and designing fishnets for the online shop Dolls Kill.
Keep following her for new creations!
Quotes from interviews on Elle, Cosmopolitan and The Cut