The Dutch collective Steinbeisser was born in 2009 and is based in Amsterdam. Their "Experimental Gastronomy" project orchestrates collaborations between renowned chefs and artists, to build up one-of-a-kind culinary experience.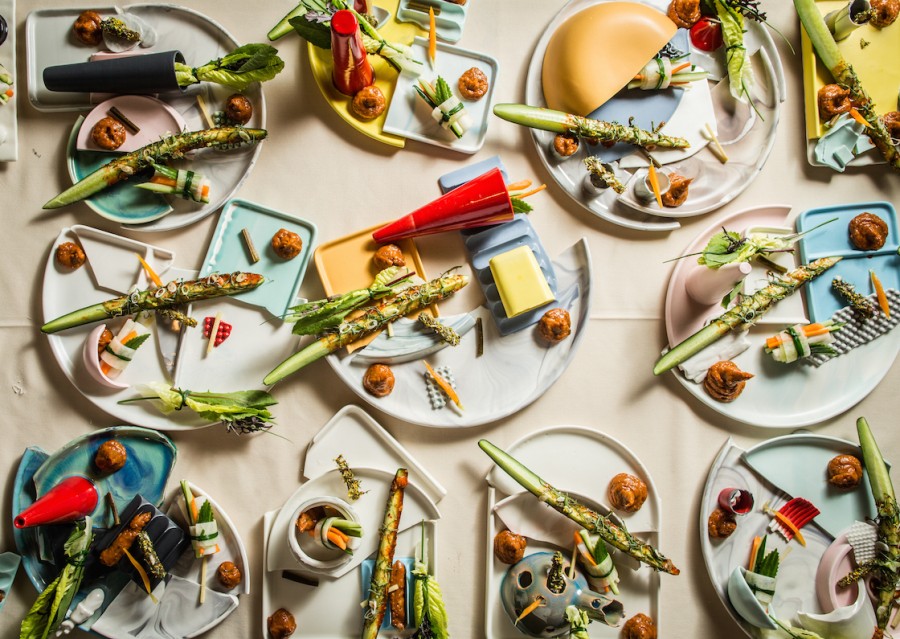 Contemporary cuisine completely plant-based united to provocative design where artists experiment new ways to enjoy food with different cutlery and dishware. The challenge is that one of reconsidering preconceptions about the relationship between tableware and the user. Objects belonging to our daily life but that with their modified shapes turn our approach to food and force us to find the right time to savor a dish as well as life.
During an exclusive dinner at the Montalvo Arts Center in Saratoga, northern California, the Steinbeisser collective invited the renowned chefs from the Bay Area, David Kinch (Manresa ***), Corey Lee (Benu***) and Daniel Patterson (Coi **) to serve a seven-course dinner for sixty guests to eat with set of cutlery and dishes specially created by twelve artists invited to not follow the normal rules of usability, in a purely antithesis of efficiency and functionality.
The New Yorker filmed this short documentary "An experimental feast, plated by artists to amuse and confound" during the evening that tells us about the path of the collective among "out-of-the-comfort-zone" guests, a bit confused but also fun.
Steinbeisser has also opened Jouw an online shop where you can buy a collection of very unique cutlery and tableware accessories created by more then 25 artists. More art and beauty than functionality.
All photos Steinbeisser